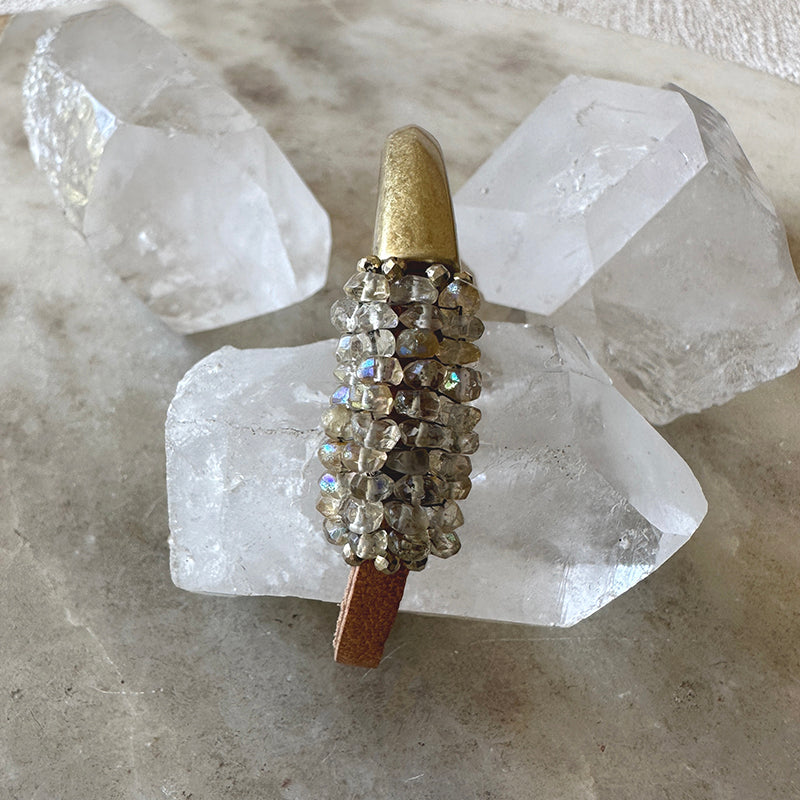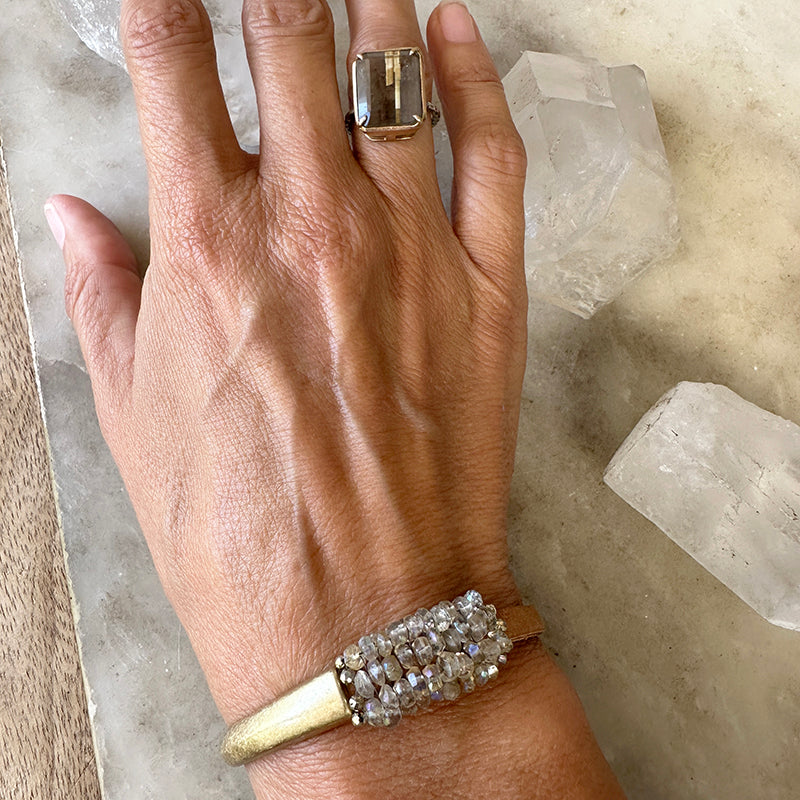 Martell Petite Quartz Cuff
by Martell Studio
Handmade in Malibu, CA
Aventurine, rutilated quartz

Leather
Stone dimensions: 1" x 0.5"
Brass magnetic closure 
Malibu based Dana Martell of Martell Studios has felt the creative pull of nature from an early age. Influenced by the beauty of the varied landscape of her native California, her designs feature her passion for color, gemstones and texture. She utilizes the timeless craft of peyote stitching and other hand crafting techniques to create unique, one of a kind pieces.
---
To get in touch, please contact us here. Our customer service hours are Monday through Friday between 11am to 5pm, PST.
Martell Petite Quartz Cuff
Shipping & Pickup
Shipping
We offer complimentary shipping on all domestic orders, with the exception of fine art prints.
Most orders ship within 3-5 business days days of receipt, but since our jewelry is handmade to order, additional time may be required.
Pickup
In-store pickup is available for all orders.
Order Tracking
When your order ships, we will send you an email that includes tracking information.
Jewelry Care
Tips
We do not recommend applying perfume or other sprayed substances before putting on your jewelry. Jewelry should always be removed prior washing your hands and bathing.
Use a soft cotton or microfiber cloth to polish your jewelry. Chemicals and jewelry cleaning cloths should be avoided at all times.
Gold Vermeil
To clean gold vermeil jewelry, use a gentle cloth such as microfiber and wipe in one direction. Do not use chemical cleaners or sunshine cloths. Store in an airtight container when not in use, and remove before applying perfumes, lotions, or before bathing. Avoid wearing gold vermeil jewelry while using chlorine bleach or while in a pool or hot tub.
Oxidized Sterling Silver
The dark color of oxidized sterling silver is a special treatment that is achieved by careful processing at our design studio. With time and with wear, the color of the oxidized metal may lighten a bit--this is a natural and organic occurrence. Please do not clean oxidized sterling silver jewelry.  Attempting to clean oxidized sterling silver jewelry will remove the finish.